Telehealth Physical Therapy
Telehealth Physical Therapy per the American Physical Therapy Association (APTA)
The coronavirus pandemic demands that health care providers, as well as payers, reconsider how care is delivered to reduce the risk of further spreading infection. Of critical importance, the increased demand for physical therapy in recent years has been driven by the aging baby boomer population, the very population at risk for greatest harm from COVID-19. With intensifying concerns surrounding the COVID-19 pandemic, access to telehealth has become of paramount importance to ensure the safety of patients and their physical therapy providers.
Physical therapist interventions delivered through an electronic or digital medium have the potential to prevent falls, functional decline, costly emergency room visits, and hospital admissions and readmissions. Further, the very nature of physical therapy services make them well-suited to telehealth. Telehealth may be used to overcome barriers of access to services caused by distance, unavailability of specialists and/or sub-specialists, impaired mobility; and can prevent unnecessary exposure during a pandemic. Education and home exercise programs, including those focused on falls prevention, also function particularly well with telehealth. For patients who cannot leave their homes or need to travel long distances, the ability to supplement or replace some in-clinic sessions with those furnished via telehealth greatly reduces the burden on the patient when accessing care. Patient and caregiver self-efficacy are inherent goals of care provided by physical therapists. A patient's and/or caregiver's ability to interact with a physical therapist in their own environment when they are facing a challenge, rather than waiting for the next appointment, can be invaluable in supporting the adoption of effective strategies to improve function, enhance safety, and promote engagement.
Examples of physical therapists using telehealth technologies include the following:
Physical therapists use telehealth to provide quicker screening, assessment, and referrals that improve care coordination. 

Physical therapists provide interventions using telehealth by observing how patients move and perform exercises and activities. Physical therapists then provide verbal and visual instructions and cues to modify how patients perform various activities. They also may change the environment to encourage more optimal outcomes.

Physical therapists provide consultative services by working with other physical therapists, physical therapist assistants, and other health care providers to share expertise in specific movement-related activities to optimize the patient's participation. 

Physical therapists use telehealth for quick check-ins with established patients, for which a full in-person visit may not be necessary. 
Physical therapists often describe telehealth as a "game changer" that provides access to their services in remote, particularly rural, areas. Telehealth improves access to physical therapy for patients who have mobility issues. Telehealth is also a great way to get specialists and sub-specialists into communities that would otherwise lack access. Telehealth has been shown to improve access to care for rural populations, as well as outcomes for a variety of health problems, including PTSD, chronic pain, stroke recovery, and joint replacement. 
The Department of Veterans Affairs has shown numerous successful outcomes for telehealth, improving access to medical specialists for veterans who visit community outpatient clinics far removed from the nearest VA Medical Center. The VA found telehealth yielded significant per-patient cost savings over traditional methods of care delivery. Improved outcomes can lead to long-term cost savings. Proper application of tele-rehabilitation can have a dramatic impact on improving care, by reducing negative consequences and costs of care, and ensuring access to specialized care in geographic areas that face difficulties in maintaining and staffing full-service hospitals.
Recommendation
While rehabilitative services furnished via telehealth would not replace traditional clinical care, telehealth would be a valuable resource for physical therapists in expanding their reach to meet the needs of patients when and where those needs arise, particularly in light of the COVID-19 pandemic. https://www.research.va.gov/topics/healthcare_delivery.cfm
Orthopedic Manual Physical Therapy
Orthopaedic Manual Physical Therapy is a specialized area of physiotherapy /physical therapy for the management of neuro-musculoskeletal conditions, based on clinical reasoning, using highly specific treatment approaches including manual techniques and therapeutic exercises.
Manual Therapy is a general term used to describe extremely skilled techniques that are used to improve the movement of joints and soft tissue; like muscles and fascia. Manual Therapy techniques are carefully applied to tissues for achievement of one or more of the following goals:
For pain relief

For relaxation

To reduce swelling & inflammation

To increase the mobility of a joint(s)

To improve muscle flexibility

To improve motion

For scar or restriction release

To improved mobility of nerves

To facilitate better movement of the spine, upper extremity (shoulder, elbow, wrist hand/fingers), or lower extremity (hips, knees, ankles, feet)
Physical Therapy
Physical therapists examine each individual and develop a plan by utilizing treatment techniques to enhance movement, reduce pain, restore function, and prevent disability. PTs instruct patients how to prevent or manage their condition so that they will achieve long-term health benefits.
What is treated?
Sprains and strains from head to toes
Pain: headaches, neck, back, entire upper and lower extremities
Concussion Syndrome
Post-Surgical Orthopedic procedures (Head to toes)
Myofascial impairments
Trigger Points
Balance deficits
Gait Abnormalities
Sports Injuries
Redcord Suspension Training
Redcord is the common thread between healthcare, fitness and sports performance on the wellness continuum. Redcord utilizes the Neurac method that restores muscle coordination and focuses on treating the actual causes of a patient's problem, not just the symptons.
Redcord is composed of ropes and slings that are utilized to restore functional and pain free movement patterns through high levels of neuromuscular stimulation. Sling suspension utilizes your own body weight to provide faster results for everyone who wants to perform better, prevent injury, avoid pain or maintain an active lifestyle.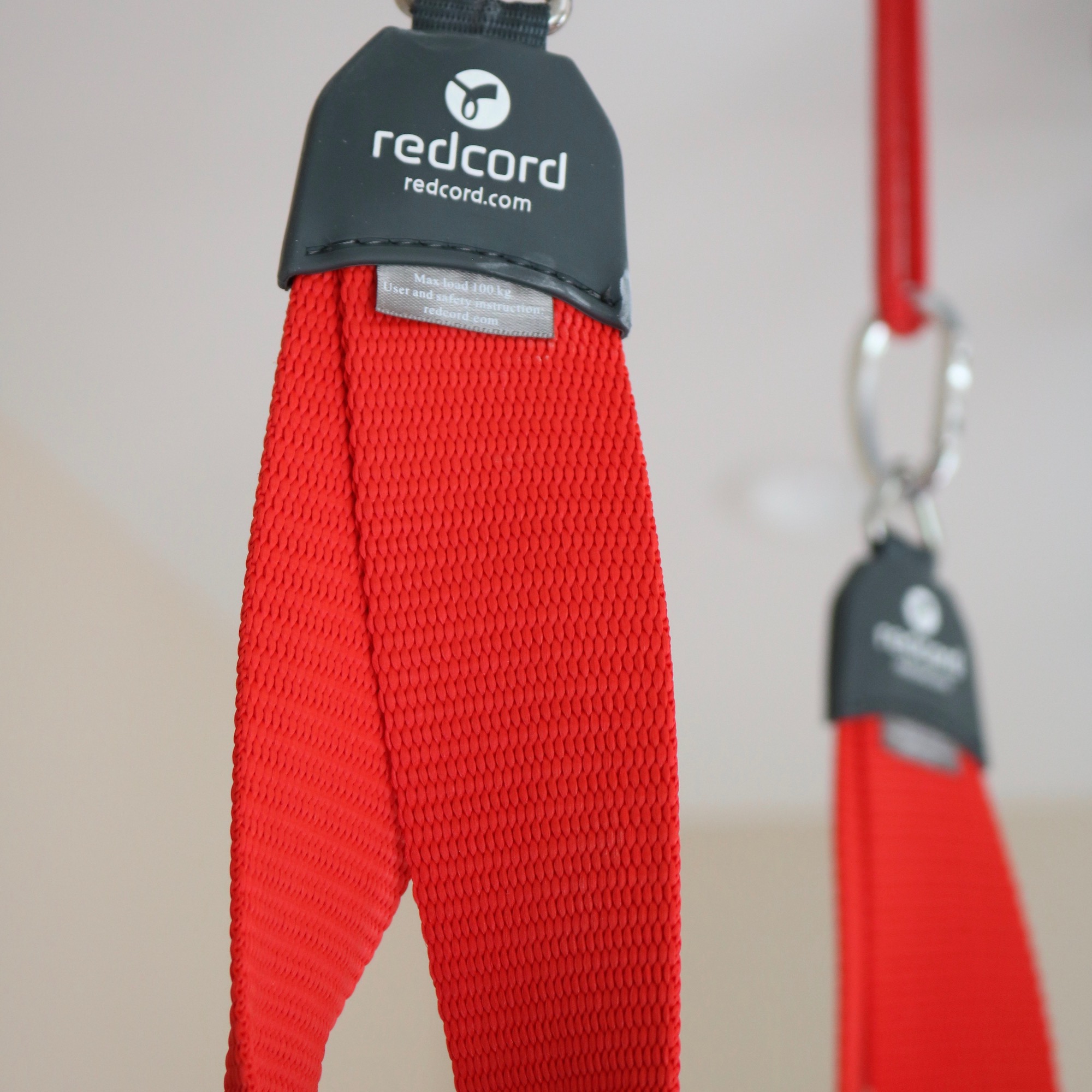 Dry Needling
Dry needling is a skilled intervention that uses a thin filiform needle to penetrate the skin and stimulate underlying myofascial trigger points, muscular, and connective tissues for the management of neuromusculoskeletal pain and movement impairments. Dry needling (DN) is a technique used to treat dysfunctions in skeletal muscle, fascia, and connective tissue, and, diminish persistent peripheral nociceptive input, and reduce or restore impairments of body structure and function leading to improved activity and participation.
For more information about dry needling view the following documents:
Wellness
Wellness is defined by the American Physical Therapy Association as "a multidimensional state of being describing the existence of positive health in an individual as exemplified by quality of life and a sense of wellbeing".
Who can benefit from a Wellness Program?
People whose insurance benefits have run out for physical therapy, but are interested in continuing their post-rehabilitation.

People who have completed their physical therapy program and are looking to maintain their current level of health and wellness.

Someone who would like to continue to improve their fitness level under the supervision of qualified professional.
Have a question about the treatments I offer? Or a question about insurance? Or simply aren't sure where to start? Fill out the form below and I will do my best to answer all your questions in a timely manner.